DEPIGMENTATION SOLUTION BY MESOESTETIC®
Mesoestetic Dermamelan Treatment is an extremely effective lightening cream designed to reduce hyperpigmentation. This depigmentation treatment helps to restore radiance and clarity by softly removing uneven pigmentation. Radically improves skin brightness and tone.
This product can be used as a maintenance cream following the in-clinic Dermamelan treatment or can be used alone as part of your at-home skin regime.
Regular price
$245.00 USD
Regular price
$320.00 USD
Sale price
$245.00 USD
Unit price
per
Sale
Sold out
Description

dermamelan treatment is a home cream whose main action is the attenuation and control of acquired skin pigmentation imperfections of melanic origin, located on the face. It is indicated to complete the depigmenting action of the dermamelan method. Continuous use reduces spots and prevents their reappearance.
Active Ingredients

dermamelan treatment - Ingredients: Aqua, Glyceryl Stearate, Glycofurol, Silica, PEG-75 Stearate, PEG-8, Polyamide-5, Kojic Dipalmitate, Glycereth-26, Niacinamide, Ethoxydiglycol, C12-15 Alkyl Benzoate, Octyldodecanol, PPG-15 Stearyl Ether, 4-Butylresorcinol, Coco-Caprylate/Caprate, Glyceryl Behenate, Poloxamer 338, Glycyrrhiza Glabra Root Extract, Dihydroxychalcone Sulfonic Acid, Piper Nigrum Fruit Extract, Retinol, Hydroxydecyl Ubiquinone, Magnesium Ascorbyl Phosphate, Retinyl Palmitate, Diosmine, Ferulic Acid, Tocopheryl Acetate, Silica Dimethyl Silylate, Coconut Alkanes, PPG-12/SMDI Copolymer, Pentaerythrityl Tetra-di-t-butyl Hydroxyhydrocinnamate, Mannitol, PhosphatidyIcholine, Glycerin, Cholesterol, Sodium Hydroxide, Polysorbate 80, Xanthan Gum, BHT, Potassium Sorbate, Sodium Benzoate, Phenoxyethanol, Sodium Metabisulfite, Methylparaben, Propylparaben, Ethylparaben, Parfum, Caramel.
How to use

Application Method:

Instructions for use after in-clinic Dermamelan Treatment

Apply Dermamelan Treatment Cream directly over the face, three times a day (morning, midday, and night), during the first four weeks (1st month).

From the fifth week (2nd and 3rd months), the cream should be applied two times a day (morning and night), for eight weeks.

Dermamelan Cream is used from week 13 (3rd month), continuing application once a day (at night), generally for a period of six months based on the obtained depigmentation results.

Instructions for use if you have NOT had in-clinic Dermamelan Treatment

Apply Dermamelan Treatment Cream directly over the entire face, once a day (at night), during the first four weeks (1st month).

If skin tolerance is good, from the fifth week (2nd and 3rd months), Dermamelan Cream should be applied two times a day (morning and night), for eight weeks.

Dermamelan Cream is used from week 13 (3rd month), continuing application once a day (at night), generally for a period of six months based on the obtained depigmentation results.

NOTE: Not using sun protection reduces or invalidates the effectiveness of the product.
Additional Info

Please note: 

Do NOT use Glycolic Acid 1 week prior to applying dermamelan.
dermamelan formula doesn't contain hydroquinone or TCA.

It is indicated for the attenuation or eradication of pigmentation imperfections located on the face. It also enhances skin brightness and unifies the tone, helping to improve skin beauty.
Share
View full details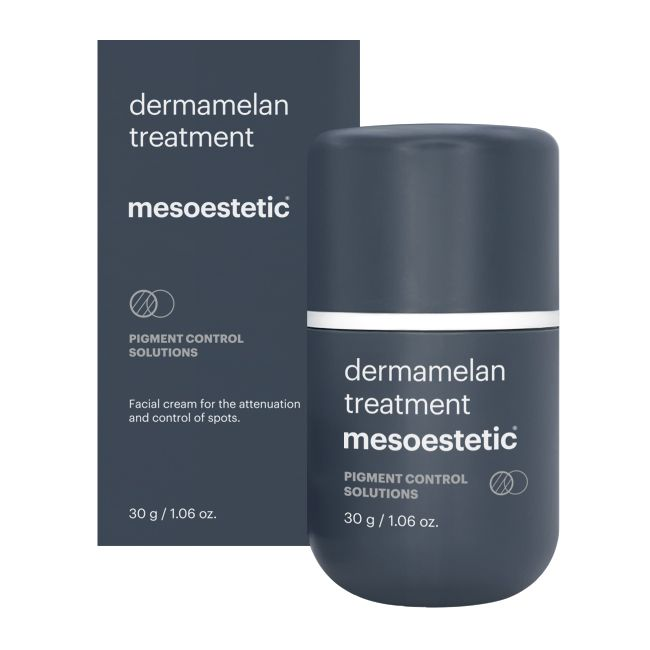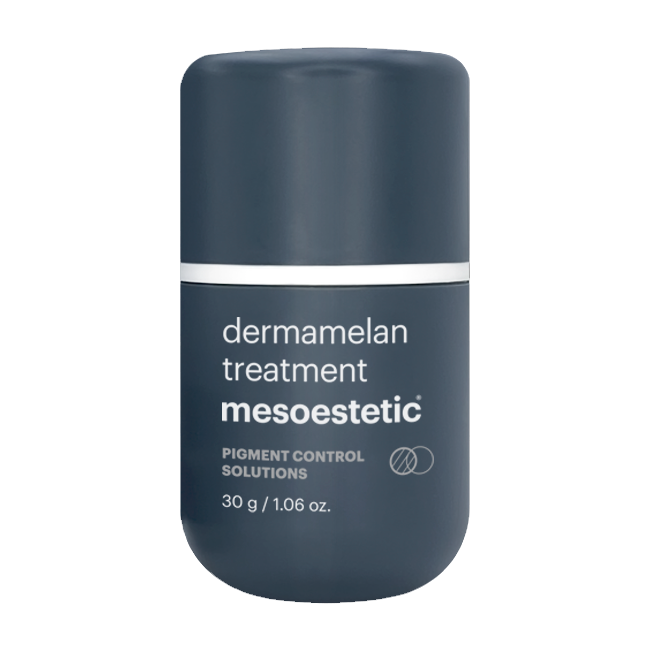 Certified Seller
Be sure to always buy your mesoestetic® products from certified centres and vendors.
What is dermamelan®?
Pigmentation concerns are a growing, global issue; they affect more than 90% of adults over the age of 50. Regardless of skin color, they are a significant issue because of their unattractive appearance and negative psychological and emotional impact, affecting quality of life.
Melanogenesis is influenced by both exogenous and endogenous factors that can lead to a localized overproduction of melanin. This excess of melanin translates into unsightly spots of pigmentation, which in the majority of cases are harmless. They are acquired skin spots, different from those with a genetic origin.
dermamelan® is a depigmenting method that removes spots fully for a short-term outcome and prevents their reappearance, maintaining hyperpigmentations under control for a long-lasting outcome.
World's top method

More than one million patients around the world have already tried it. Thousands of professionals treat skin spots with dermamelan®.

High dermal safety

Strict quality standards and numerous efficacy studies prove the method's safety and tolerance.

Excellent clinical results

Results that support the high effectiveness of the method in all skin spots.

High satisfaction from the patient

With visible results from the first week of treatment and in the long term.
FAQs dermamelan®
Does dermamelan® work with any type of spot?

With dermamelan® we treat all types of spots of melanin origin, that is, spots originating due to melanin overproduction triggered by several factors (hormonal, genetic, post-acne, post-depilation factors, etc.) that worsen due to sun exposure. Therefore, dermamelan® is effective to treat spots such as: melasma, post-inflammatory hyperpigmentations (PIH), solar, senile lentigo and freckles.
What is the best time to use dermamelan®?

dermamelan® can be used at any time of the year, though it is advisable to do it at times when sun exposure is not so intense or prolonged, such as the winter and autumn. In case you live in a hot region or apply the treatment in the summer, you must take greater care and use a very high sunscreen, such as melan 130 pigment control and avoid completely very intense and prolonged sun exposure.
How long does the treatment last?

The dermamelan® method consists of four phases which are necessary to achieve the target result. Intensive depigmentation in phase 1 and treatment for home use in phases 2, 3 and 4. The total duration of treatment is about 6 months, that can change based on the severity of the case.
How long will it take to see the results? Why should I continue the treatment if the results are already seen before completing it?

The most significant change takes place a few weeks after applying the mask in cabin, it improves skin texture and spots decrease noticeably. This can give a misleading feeling of success. During this period melanin has been removed from the outermost skin layers, and therefore we see the spot much more faded and the skin smoother and softer, but the origin of the problem has not been controlled yet. The melanocyte, a cell where melanin is produced, is still uncontrolled and continues to produce pigment (melanin) in excess. To re-educate the melanocyte and control this overproduction, it is important to continue a home treatment with regulating action, so that the cell returns to a normal active state and therefore prevent spots from reappearing.
What happens if I stop applying the home treatment?

If you do not follow the home regimen, you are interrupting the treatment and will therefore not obtain the expected results. Not applying dermamelan treatment depigmenting cream with regulating action involves not regulating the melanocyte and, therefore, a persistent uncontrolled, excessive production of melanin. The spot will reappear as the skin layers are renewed, as melanin migrates to the surface making the spot increasingly evident.

Not using photoprotection, melan 130 pigment control, involves a very high risk that the spot returns, as skin is more sensitive and receptive to external aggressions during the treatment.
Can I combine the cosmelan method with other depigmentation treatments?

During at least the first three months of the method, it is not recommended to use any other type of minimally invasive treatment that can cause a skin lesion, as well as peels, microneedling, exfoliations, etc., as it can even cause repigmentation. It is advisable to use soothing and regenerating treatments both in cabin and at home in case it is needed.

In the last months where we reduce the application guidelines of dermamelan treatment only to the night, we can combine it with treatments that help prolong the results, such as melan tran3x concentrate and melan tran3x gel-cream.
Does the treatment make me unable to fulfil my daily life activities normally?

As it is not an invasive treatment, it does not make you unable to fulfil your activities of daily living normally. Caution must be exerted when fulfilling some type of activities during the first days, a skin adaptation period after the cabin treatment. For instance, it is advisable to avoid bathing in swimming pools, prolonged sun exposure and activities that involve excessive sweating.
Can the spots return after the end of treatment?

After an adequate professional treatment, excess pigmentation can be removed visibly. However, it is a dynamic process, where the imbalance forming them can cause their recurrence. Therefore, even if the spots are not seen, it is essential to apply a daily regulatory depigmentation treatment and photoprotection throughout the year to prevent repigmentation.
How can I prevent the appearance of spots after the treatment?

In case you are under the effect of any of the triggering factors for the appearance of spots (contraceptives, pregnancy, summer season, post-depilation, post-acne, post-peel, under photosensitising treatment, etc.), a daily treatment routine is essential, combining a depigmentation treatment, such as melan tran3x, with a high photoprotector such as melan 130 pigment control.
Does the dermamelan® treatment have side effects?

If used correctly and under the supervision of a professional, there should be no side effects. cosmelan® is a topical treatment, therefore minimally invasive, that does not prevent you from following your normal daily life. During the initial phase and following the treatment in consultation, the skin may become irritated or show redness. This is totally normal and expected, and it will disappear within a few days. During the home phase, it is common to experience slight peeling and sensitivity, which are symptoms that disappear when applying the home products recommended by the specialist.
How does dermamelan® act against acne?

dermamelan® is a depigmentation treatment; therefore, it is not indicated to treat active acne. If you would like to treat acne in its different phases of acneic and seborrhoeic skin, we recommend the acnelan medical treatment (active link to acnelan's consumer page). However, acne has an inflammatory component that can lead to the appearance of skin spots, known as PIH (Post-inflammatory Hyperpigmentation). cosmelan® is effective on this type of spots caused by acne, in all skin types and phototypes.
What is the main difference between cosmelan® and dermamelan®?

Both are depigmentation treatments that produce excellent results, but cosmelan® is an aesthetic treatment, whereas dermamelan® is a treatment that requires a doctor's supervision and monitoring. The new dermamelan® is a new generation treatment that, thanks to the development of an unedited formula, has two patents that allow for a more comprehensive and effective action when treating the most severe and resistant spots. This innovation has led to a more efficient and convenient protocol with results after 4 months of treatment.
dermamelan® peel: is cosmelan® a peel?

Although often referred to as dermamelan® peel, the dermamelan® treatment goes beyond a peel. Unlike peels, which act on the surface of the problem, cosmelan® gets to the root of the problem. It consists in a treatment that visibly removes and attenuates pigmentation spots (like a peel) while exerting a regulating action that corrects the overproduction of pigmentation and prevents the spots from reappearing.